Active time and attendance system
Active RFID tags are used as employee cards and are given to each employee. Each employee's information is also linked with the tag ID for easier retrieval of related information.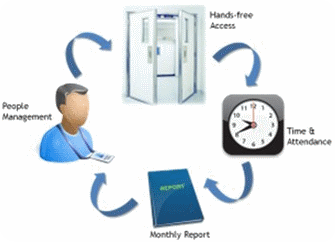 Whenever employees carrying their tag pass through the office entrance, readers detect the tags and immediately send the tag ID to the server. Entry or exit of a particular employee is recorded and can be retrieved for later human resources management usages. The whole recording process is automatic and thus convenient for both employees and operators.
By implementing active RFID technology, no longer do employees need to sign in or out manually. Human errors, unnecessary disputes, and tedious paper recording and data entry work can all be avoid, providing efficiency in overall operation of the company.
Monthly report for Human Resource Management
The system is capable of generating monthly reports for every employee, showing records such as total working hours time, number of day-offs, and hourly/monthly salary of the employees. Such reports provide data and statistics for further analysis in respect of human resource planning and management.
Features of the active time attendance system:
Tracks employees' in/out record
When passing through the entrance, time of entry or exit of particular employees is recorded as soon as the RFID tags are detected.

Multiple tag reading simultaneously
Readers can detect around 100 tags at a time.
Varying reading distance
Reading range of the active system can be adjusted from several meters radius for short range reading to up to 50 meters radius for long range reading. Adjustable reading range of the system provides flexibility in difference applications.