One very headache safety problem is accidents caused by causal driving. Frequent accidents suggest that casual drivers do not slow down the speed when they drive into the depot resulting in tragedy eventually. Tragedy can be minimized or even avoided by the application of 'traffic signal system' comprising active RFID technology application. Active RFID tag with vibrator can be placed into the Control Panel and the tag can keep on sending signal to RFID device (with sensor) installed into traffic light. When the train is deriving into the depot within 30m, the traffic light turns RED, tag will then trigger alarm and vibrator to capture drivers' attention to prevent accidents from happening.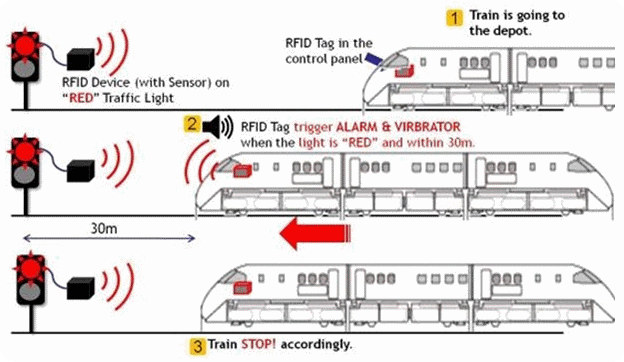 Tailgating problem can easily lead to collision causing both huge casualty and pecuniary and reputation loss to a company. A very EASY application of active RFID can solve this problem. A RFID device can be installed into the front, the Control Penal, and RFID tag can be placed on the back of train. When every train is doing so, an effective 'Tailgating Prevention System' can be therefore built up to minimize the accident and maintain reputation of a company. When two trains are getting closer, e.g. 20m, the RFID reader will trigger the alarm in the RFID tag steady. When it gets closer, e.g. 10m, then the volume of alarm will be even bigger. Accidents can be therefore minimized; maintenance cost can be also saved.

Compartment Temperature Tracking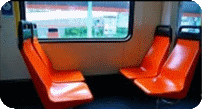 To suit the wide variety of customer demand today, railway operation needs to further improve the quality of service. Ventilation of compartment is one of the main concerns of passengers. Temperature data will provide good reference for the analysis on this aspect and which can be achieved by installing RFID tags with temperature sensor into the compartment. The tags will sense the temperature continuingly and record the data. Data can be downloaded by the RFID handheld reader for different purpose.

Attendance record of workers
It's essential to maintain and monitor the temperature of railways' joints to ensure it is within 50℃ to 70℃ for normal operation. When the temperature is beyond the boundary, the power line will be seriously affected. Unfortunately, it's difficult to recognize the problem by manual checking, therefore, in this situation, RFID application on temperature tracking can help. RFID temperature tag can be placed on the joint to store the temperature flow. All information can be sent to Central Office by peer to peer (P2P) communication. Warning of problematic joint will be sent to operator, with unique tag ID, operator can locate the joint without time-consuming checking process.